The Rabbi's Desk
01/17/2020 12:09:18 PM

The Derasha this Shabbat in the Straus Main Sanctuary will be delivered by our Scholar in Residence, Rabbi Itamar Rosensweig
Inside: (see below)
• Last Week's Derasha
• MLK March from CAT
• The Rebbetzin's Bookshelf
• Parsha Shiur Video and Audio
• For This, Hashem Made the Internet
• Nishma Research 2020 Orthodox Political Survey
Congregation Ahavath Torah is Marching
on Martin Luther King Day
Monday January 20th, 2020
co-sponsored by East Hill Synagogue,
Kehilat Kesher, Kol Haneshama, & Shomrei Emunah
The Rebbetzin's Bookshelf
A regular feature in which Dr. Shoshana Poupko will discuss one of the many books she has read and recommends.
Click here to receive the Rebbetzin's Bookshelf directly on WhatsApp
Short Cuts to Happiness
Tal Ben-Shahar is a bestselling author of multiple books on happiness and positive psychology – a few of which I will review here in the future. He also created a course at Harvard University in Positive Psychology, which became the most popular course in Harvard history, attracting close to 1400 students each semester. Recently, Tal Ben-Shahar moved back to Israel where he is a professor and noted lecturer around the globe. Click to continue...
My Parsha Shiur on Shemos
I broadcast my Tuesday morning Parsha class on Facebook Live (Tuesday's at 11:00am, check your local listings). Follow me or the shul's Facebook page to get notifications.
For This, Hashem Made the Internet
You may already be familiar with Sefaria, Mechon Mamre, Hebrew Books, and other online databases of Jewish texts. But you may not have heard yet about another amazing resource - Al HaTorah. There is a wide array of features here beyond just a text database and it's worthwhile to browse around and read their 'About' pages to get a sense of the myriad of features. But even just their Mikraot Gedolot section is amazing with the numerous commentaries that are easily accessible with a click of the mouse. They have sections on other areas of study and just announced this week an upgrade to their section on Rambam with this post on Facebook. (click on the screen capture to go to the post).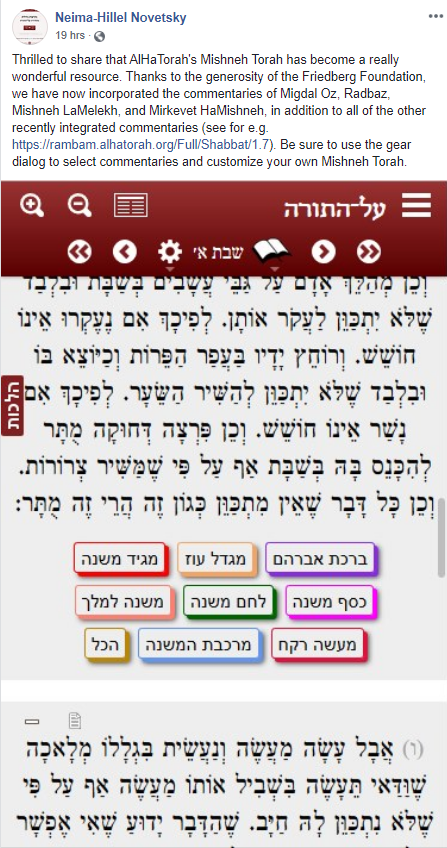 Nishma Research 2020 Orthodox Political Survey
I am passing along a message from Nishma Research: US politics are of course a hot topic these days and there has been much talk about getting a better sense of our community's views. We are therefore pleased to inform you of a new survey on the political views of American Orthodox Jews. Shul members (in the USA) are invited to take this brief (5-7 minutes) survey, which can be accessed at https://bit.ly/ortho-political-2020b.
This survey is completely anonymous and is open to all persons age 18 or older. This survey is sponsored by and conducted by Nishma Research, an independent research firm that is run by Orthodox members of our community. Nishma is doing this in the interests of better understanding our community, and they will be sharing all of the results with the community. The survey will be online and available for you to complete until 12 noon on Monday, February 3.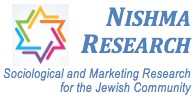 Mon, October 18 2021 12 Cheshvan 5782