The Rabbi's Desk
01/10/2020 02:23:28 PM

I will be davening and delivering the Derasha this Shabbat in the Katz Auxiliary Sanctuary
Topic:
Do as I Do, Not as I Say
Inside: (see below)
• Is Anti-Semitism a Critical Reason for Jewish Survival?
• The Rebbetzin's Bookshelf
• Solidarity Mission Recap 
The Rebbetzin's Bookshelf
A regular feature in which Dr. Shoshana Poupko will discuss one of the many books she has read and recommends.
Click here to receive the Rebbetzin's Bookshelf directly on WhatsApp
Does the World Need the Jews?
Ever since my earliest grade school lessons, I wondered why Adam and Chava weren't Jewish. I wondered why God appointed one nation to bear the responsibility of being a light onto the nations. I wondered why Judaism was even necessary, and why the whole world isn't expected to live by Jewish values and ideals. I learned many different perspectives over the years, and along the journey I read a number of books that contributed to my appreciation for Judaism. The books that spoke to me most were those that didn't prop up Judaism by putting other religions down, nor did they encourage Jewish pride simply as a response to persecution. Click here to continue reading...
Solidarity Mission Recap 
Since I was prevented from attending the Solidarity March, I asked Andrew Harary to give us a recap and share his thoughts about recent event. Pictures included following the essay.
Clinging to the Light of Hanukah
by Andrew Harary
On the 7th night of Chanukah this year, while still reeling from recent attacks against our brothers and sisters in the Jewish communities in Jersey City and Brooklyn/NYC,
the American Jewish community was struck with yet another devastating blow in the form of a terror attack at a Chanukah party in Monsey NY.
It was eerily reminiscent of pogroms which would take place in Europe, 80 years earlier.
With the attacks seemingly getting ever closer to our relatively quaint and safe suburban neighborhood, it was starting to feel as though the noose was tightening around our necks.
Fear and panic were spreading through the NNJ Jewish community, and without an outlet for community members to actively participate in combatting this hatred, there was a palpable sense of helplessness starting to be felt by many.
On December 29th at 4:11PM, the first signs of life began to show.
It came in the form of an email from our Community Rabbis, asking the Community to harness the light of "Zot Chanukah", the last flame of the Holiday.
The Rabbis requested that we not only say prayers for our Brothers who were injured at Rabbi Rottenberg's home in Monsey, but if we were able, that we show up, in solidarity, at the Rabbi's home for the lighting of the last candle of Chanukah at 8:30 that evening.
It was a message that I had been waiting for.
Even though it was a last second request, and that it was a going to be terrible weather for driving that evening, I knew that this was something that I had to do.
I called a few Community members, and that evening, three of us took a trip to Monsey in order to bring chizuk to our Brothers and Sisters who were still in shock from the previous evening's horrors.
When we got to the Rabbi's home, there was an obvious presence of heightened security and worry.
We approached the door and were immediately asked by those from the Monsey Community standing guard, who we were, and what our business there was.
We explained to them that we were there from Englewood in order to be with our Brothers and Sisters, in order to bring chizuk to their community.
Our chevra was immediately embraced and thanked for being there (and apologized to for the need to ask these security questions).
We were lead into the home where we noticed that we were the only 3 individuals who looked "out of place."
The home was packed to the gills with Jews from the Chassidic community.
One of the individuals who welcomed us in, asked in Yiddish for the crowd to part, and to allow the Brothers who came to bring chizuk from Englewood to move towards the front.
As we shimmied our way towards the room where the lighting was taking place.
From the corner of my eye, tucked into the crowd, I saw not one or two, but approximately 12 individuals from Congregation Ahavath Torah, spread out amongst the sardine packed crowd.
In a room that was meant to fit 30 individuals, there must have been over a hundred, and our community represented 10% of the crowd.
I was extremely proud to be counted among those to have been representing our congregation at the lighting.
Rabbi Rottenberg's berachot over the candles and his subsequent tefilot and zemirot sent waves through the tightly packed crowd.
--------------------------------------------------------------------------
Last week I received another message which I had been waiting for.
It was a notice that there would be a big solidarity rally for the Jewish Community against Jew hatred, marching from downtown NYC to downtown Brooklyn.
There were requests from Community members for CAT to coordinate a bus in order to transport families to the Rally. 
Rabbi Poupko and team responded immediately procuring a bus and making the necessary arrangements to have our community represented at this important event. 
At 9:30 Sunday morning, we ended up having 43 individuals from CAT, Kesher & East Hill on the bus ready to head into NYC in order to stand shoulder to shoulder with our Brothers and Sisters of the Jewish community. 
Rabbi Goldberg boarded the bus to give a brief message of chizuk, and we were off to the Rally. 
When we arrived at the meeting point, I was immediately aware that this Rally would be larger than any I have attended since the march on Washington during the second intifada. 
I really didn't know what to expect in the crowd. 
I had concerns that this would be extremely politicized by the attendees of the event, but I was very happy to see that the political divisiveness was mostly confined to fringe smaller groups, and by no way was it the overall message of those at the rally. 
Many CAT community members who did not travel on the bus, met up with our group at the rally meeting point. 
At around 11:30 we began our very slow, shuffle towards the Brooklyn Bridge. 
It was approx 30 degrees and blustery in the wind tunnel that was downtown Manhattan. 
Along with Jews of every make and model, we proudly walked in unison. 
We chanted Am Yisrael Chai while waving our Israeli and American flags with pride, and clutching our kippot, as they flapped in the 30mph wind gusts. 
Once we reached the Bridge, our shuffle slowed to a crawl. 
The sun was a welcome visitor as it warmed our bodies, while the Jewish Pride that was emanating from all around us, warmed our souls. 
We marched across the bridge and into the downtown Brooklyn rally grounds as "One Nation, with One heart".  
The ride back home to Englewood was quick and uneventful. 
I was very proud to be a part of such an important moment in our Jewish American collective history.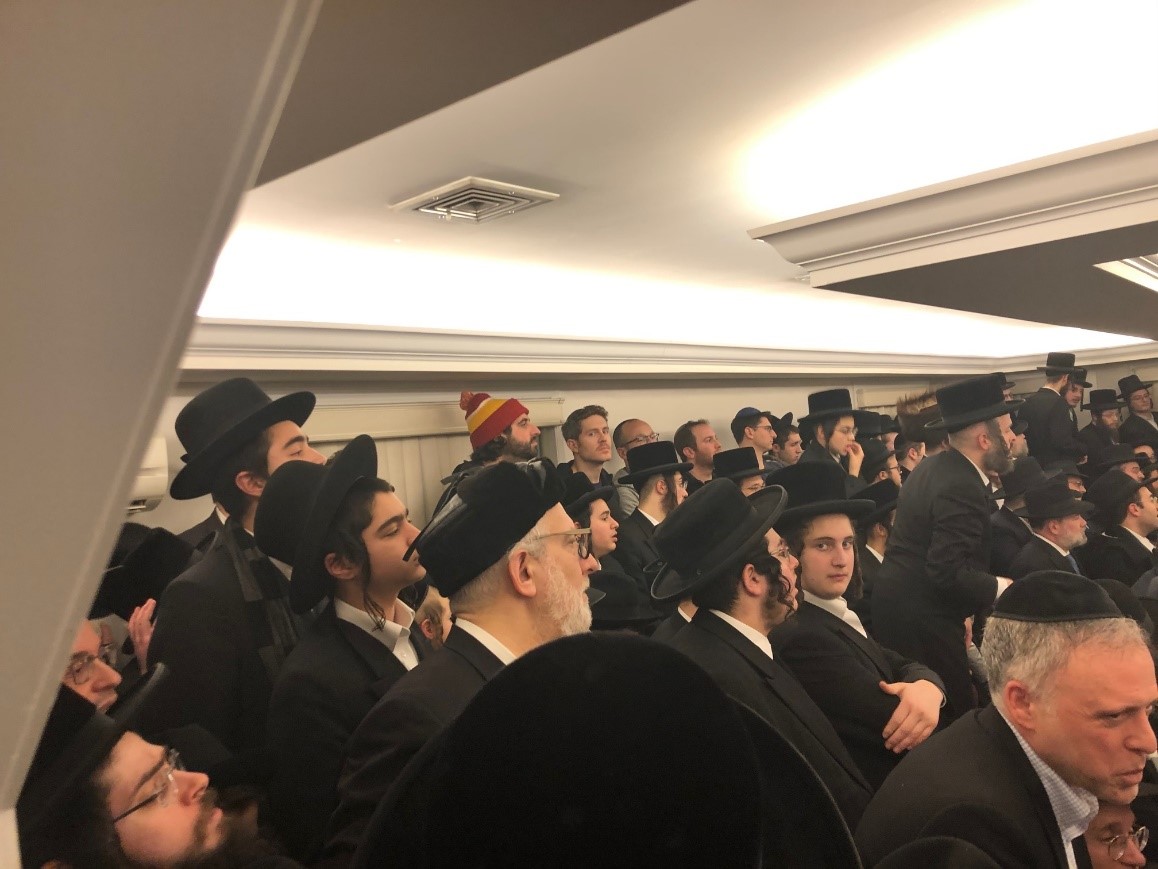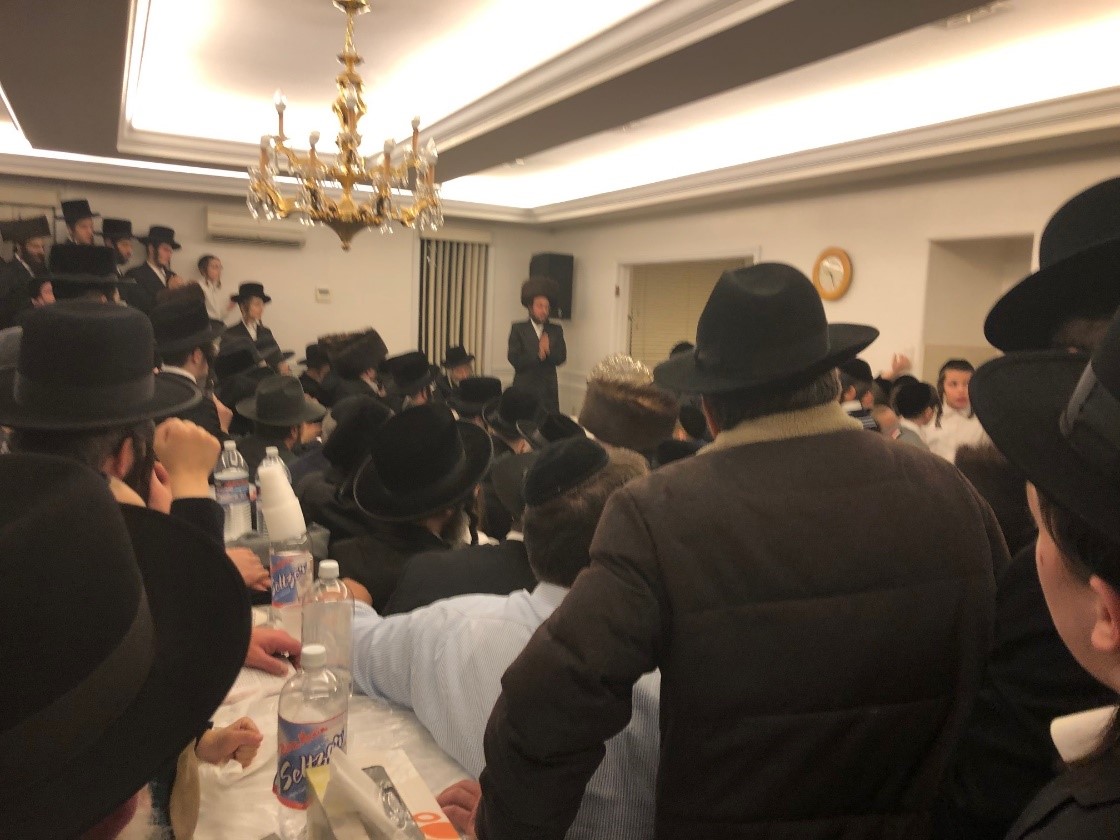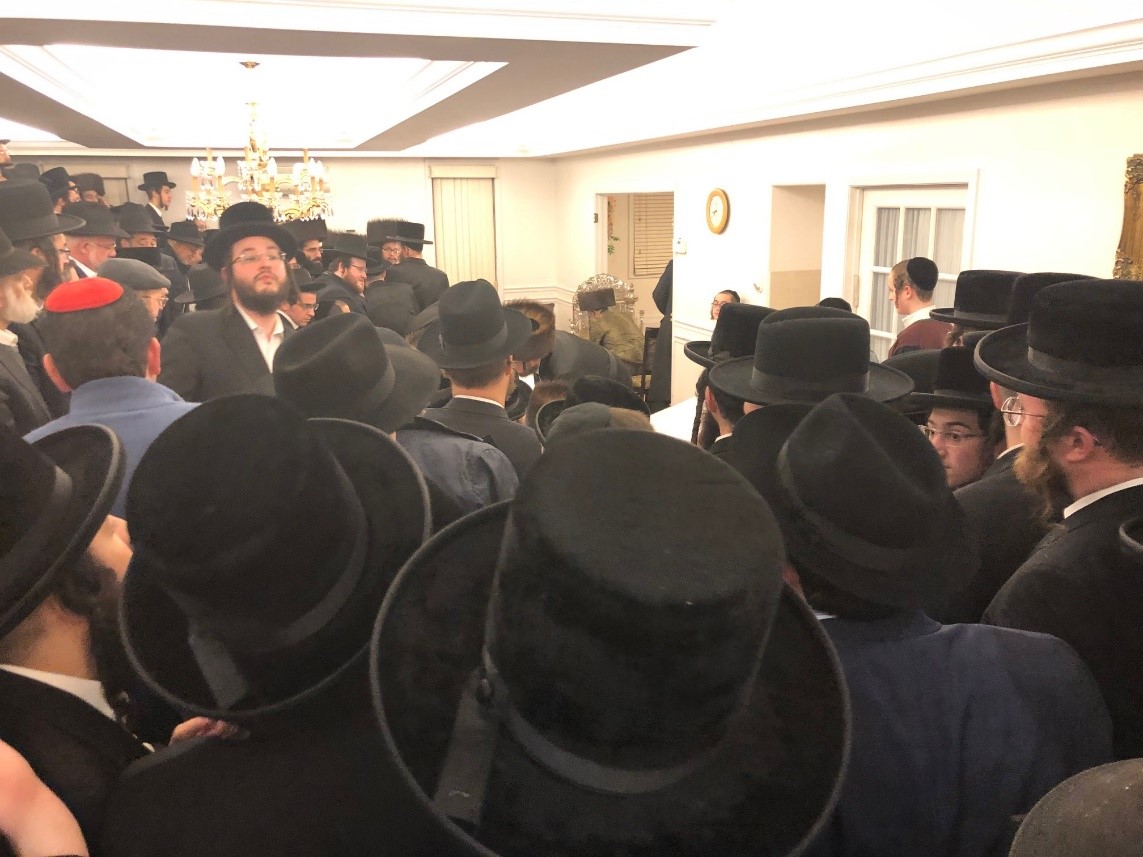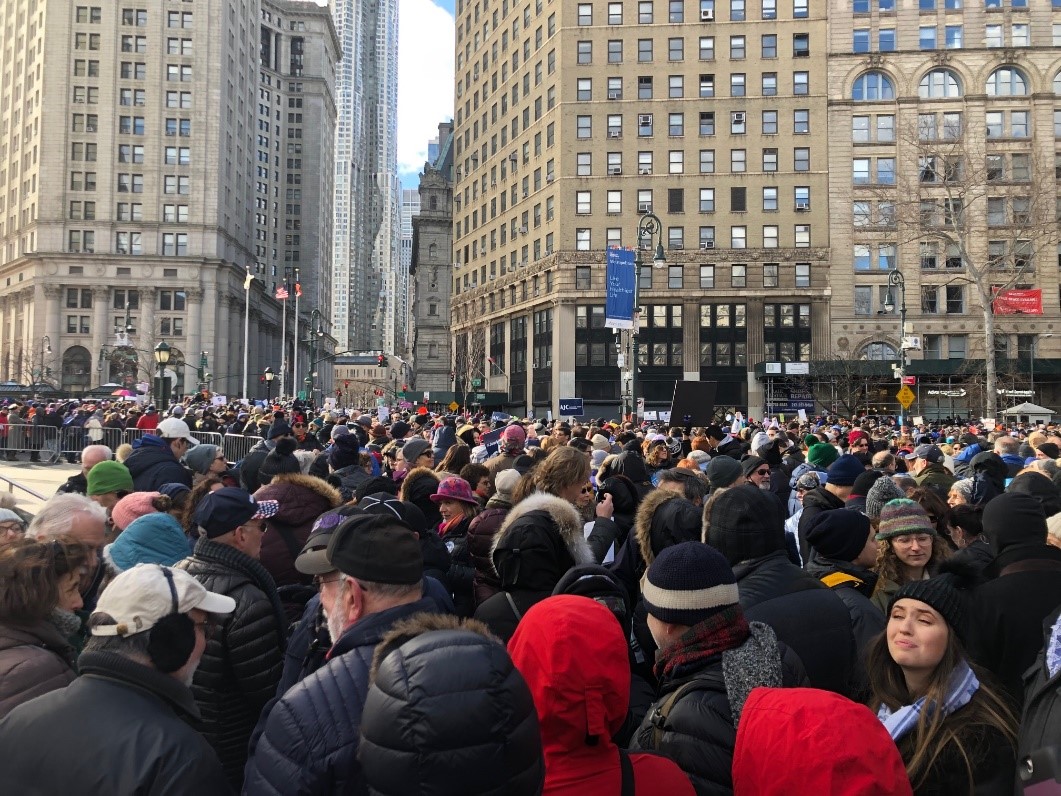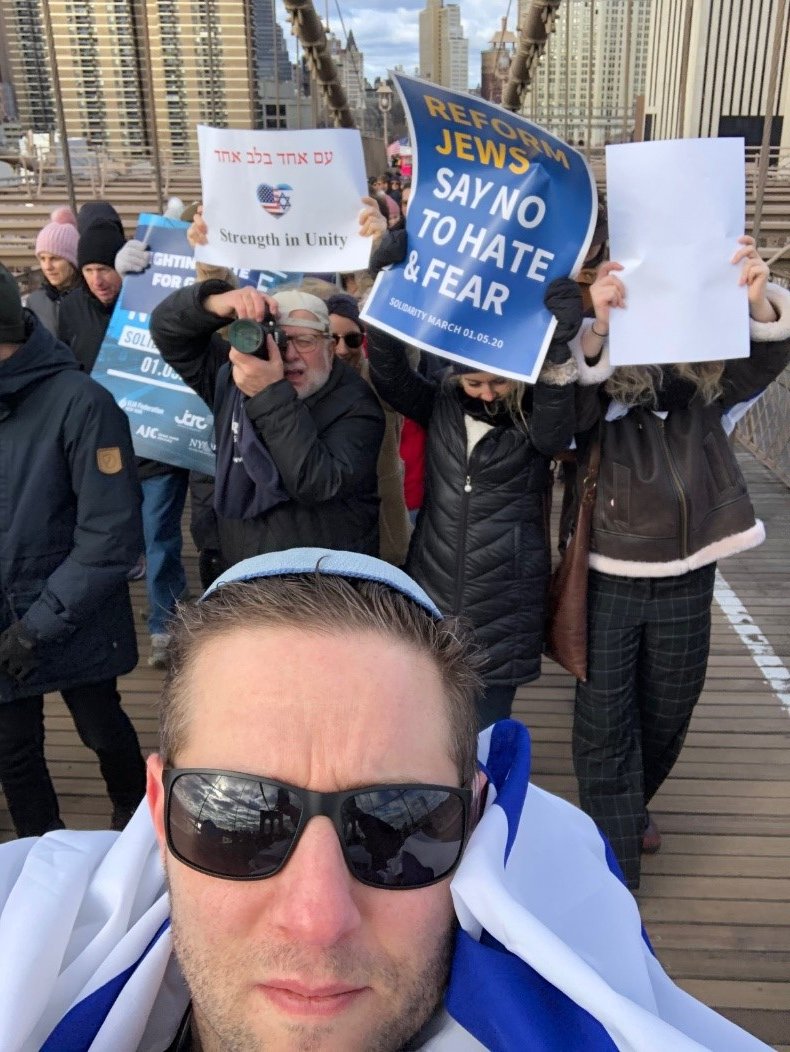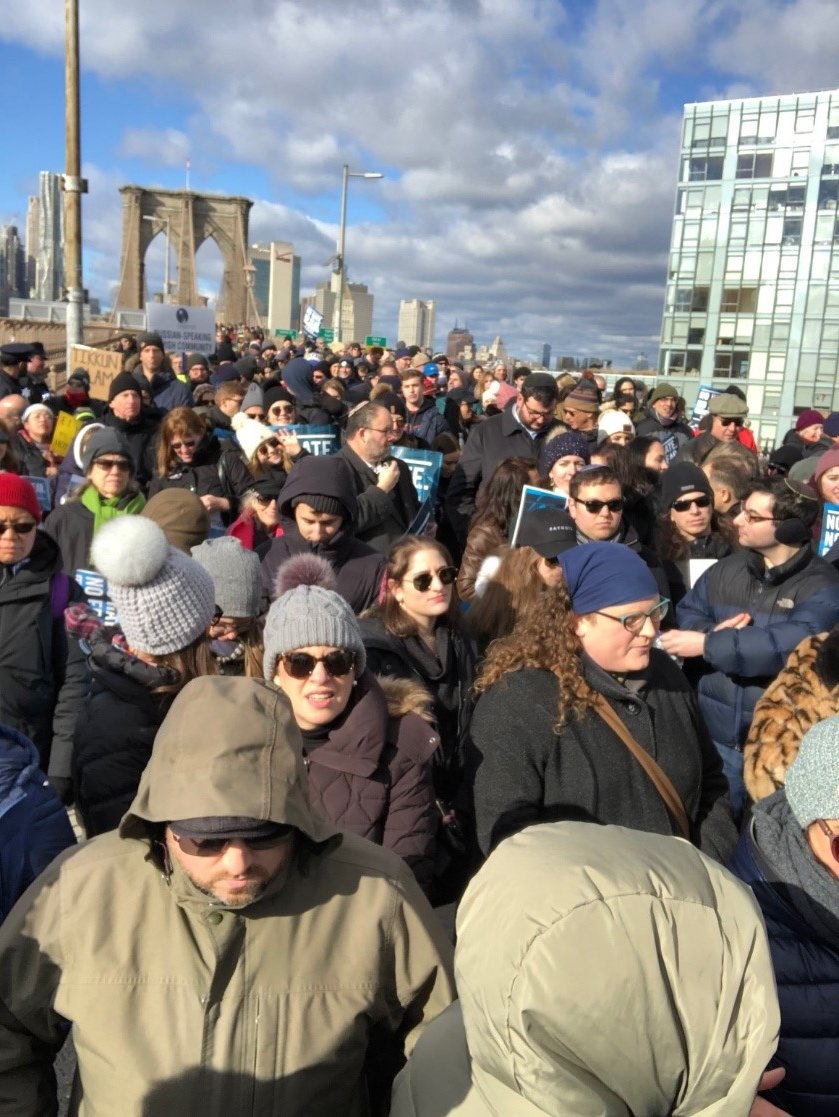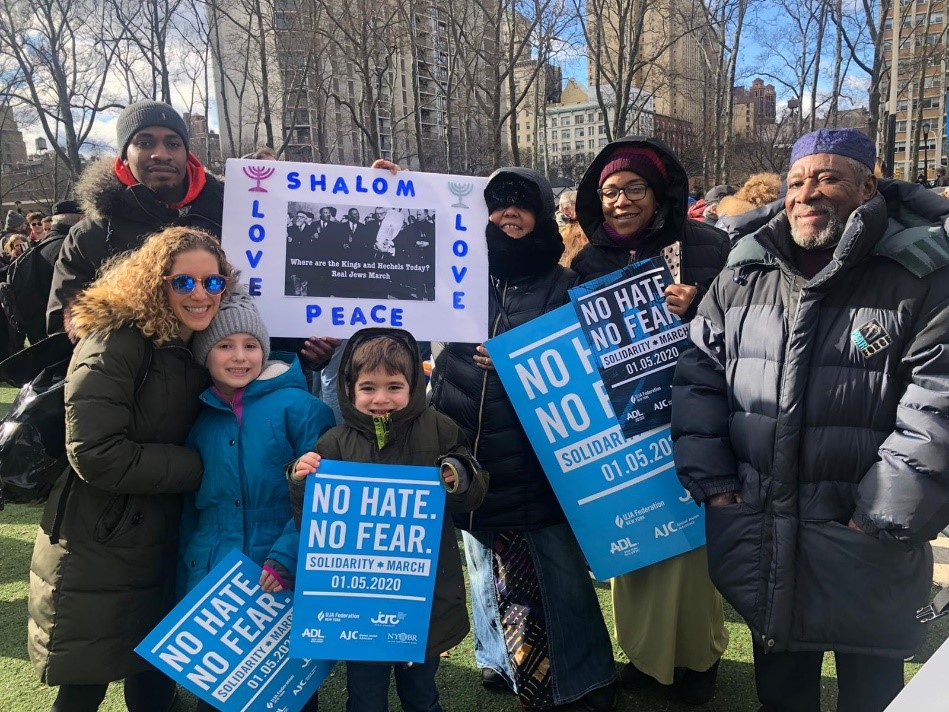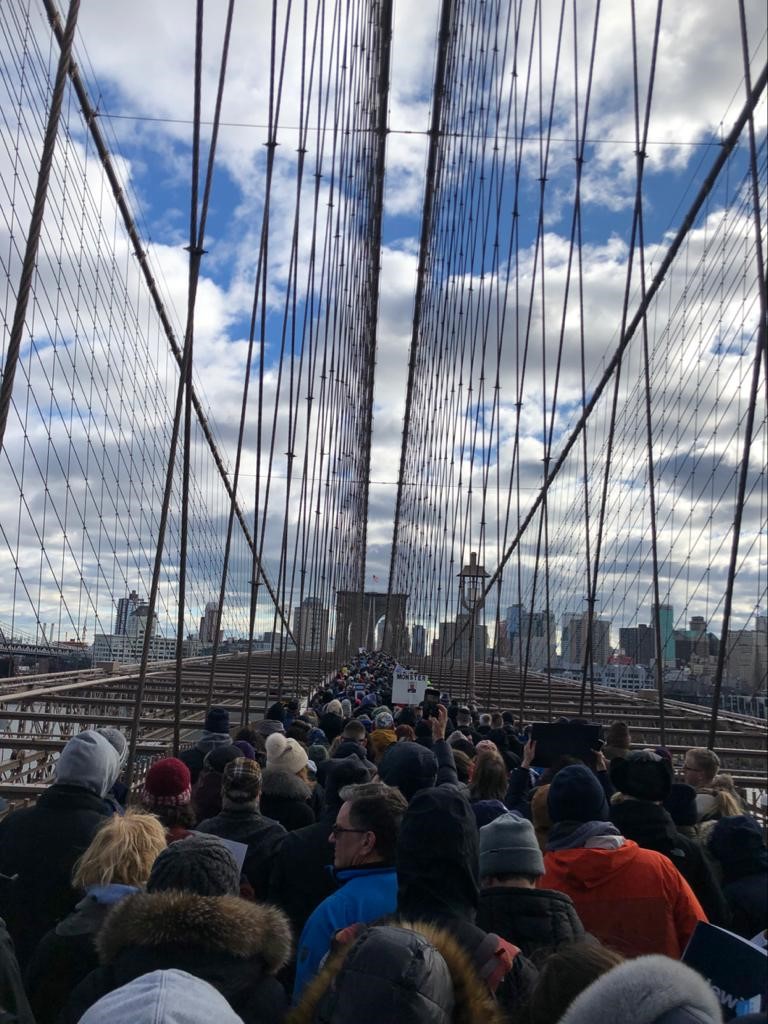 Mon, October 18 2021 12 Cheshvan 5782