The Rabbi's Desk
06/19/2020 12:11:29 PM

Please find below:
Weekly Message

Recorded Derasha

Watch or Listen to this Week's Parsha Class

Download the Torah Reading for This Shabbat

For This, Hashem Made the Internet

Subscribe to My Youtube Channel
1. Weekly Message
Clarity and Mystery
It was not easy making the decision to resume indoor Minyanim in our shul this coming week. While the Governor's Executive Order clearly allows them, Halachah operates with a different set of standards. As I've mentioned on several occasions, the Torah-level obligation to safeguard life even in doubtful circumstances clearly overrides the Rabbinic obligation to Daven with a Minyan. This is why our Medical Advisory Committee (MAC) weighed a number of different health and social factors in coming to a compromise decision. We will continue to hold outdoor Minyanim, even as we begin some indoors. Please read the latest update from the RCBC dated June 18 for a deeper discussion of the issues. Clearly, it is safer to daven outdoors. Nevertheless, if we continue to have cooperation and adherence to social distancing guidelines we can safely daven in our beloved sanctuaries as well.
One of the challenges presented by this pandemic is the uncertainty and confusion regarding the risk involved in various activities, and the difficulty in making sound decisions. It can seem sometimes that the more information we try to gather from the internet, the less clear it becomes. This is why it is critically important to rely on officials who base their decisions on as much medical science and data as possible. This has been our approach here in our shul and the approach of the RCBC with whom we proudly affiliate.
Rav Yosef Dov Soloveitchik z"l (as quoted by Rabbi Avraham Besdin in 'Reflections of the Rav Volume 2') understood that the colors of the tzitzis, which are found in this week's Torah reading, signify the tension between clarity and mystery. The white color of the tzitzis represents "clarity, distinctness, rationality, that which is self-evident." Purity and forgiveness are symbolized in the Nevi'im by the cleansing of a white garment. Indeed, in Hebrew something that is made clear is described with the word מלובן – whitened.
The techeiles color, an azure shade of blue, is compared by the rabbis to the color of the seas and the heavens. They represent: "…the grand mysteries of human experiences which elude our precise understanding. The seas and heavens are boundless and beyond human reach. They encompass the abstract and the transcendent… While the color white bespeaks the clearly perceptible, techeiles refers to a realm which is only vaguely grasped."
We live in an era when it feels as if so much of our world is understood and under our control. Through science and technology we are capable of things that were barely imaginable a century ago. And yet this pandemic has generated many unfamiliar feelings of uncertainty and ambiguity. It is a harsh reminder not just of how much is beyond our understanding and our grasp, but more importantly what it feels like to not be in control and to have to navigate challenging issues where clear solutions are so hard to come by.
Our mandate, given to us by Hashem on the day we were created, is not to recoil from the mystery and surrender to the forces of nature. Hashem give us the world over to humanity and directs us 'וכבשוה' to master the world. The combination of white and techeiles teaches us how we must learn to balance that mandate with humility, care, and sensitivity.
These are the lessons we use to guide us as we navigate the difficult decisions our community is faced with. Balancing our humility before Hashem with the best knowledge and science we can find, we take small, deliberate steps forward while constantly reassessing as we go along.
Shabbat Shalom
2. Recorded Derasha
Work to Deserve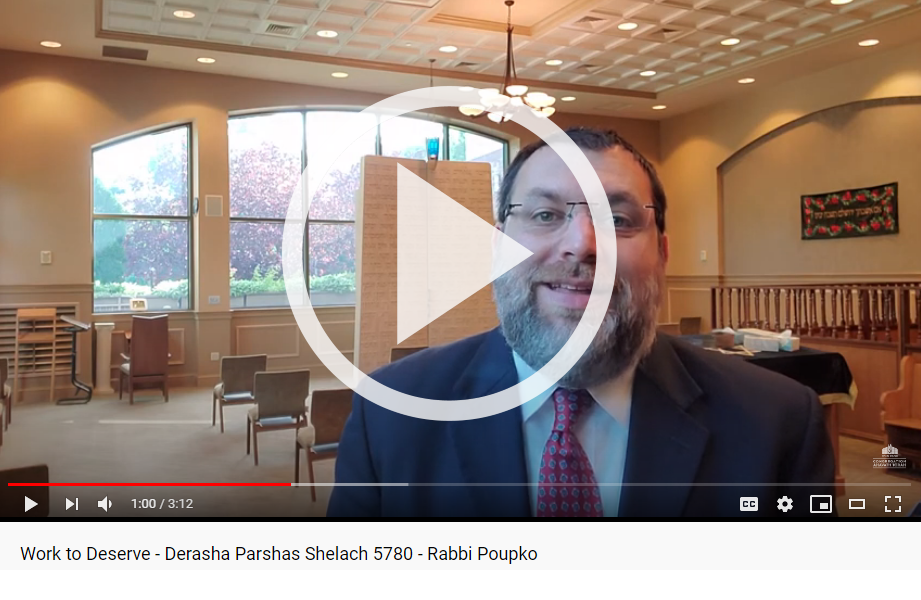 3. Watch or Listen to this week's Parsha Class
The Rabbi Poupko Parsha Project, Tuesdays at 11:00am

Video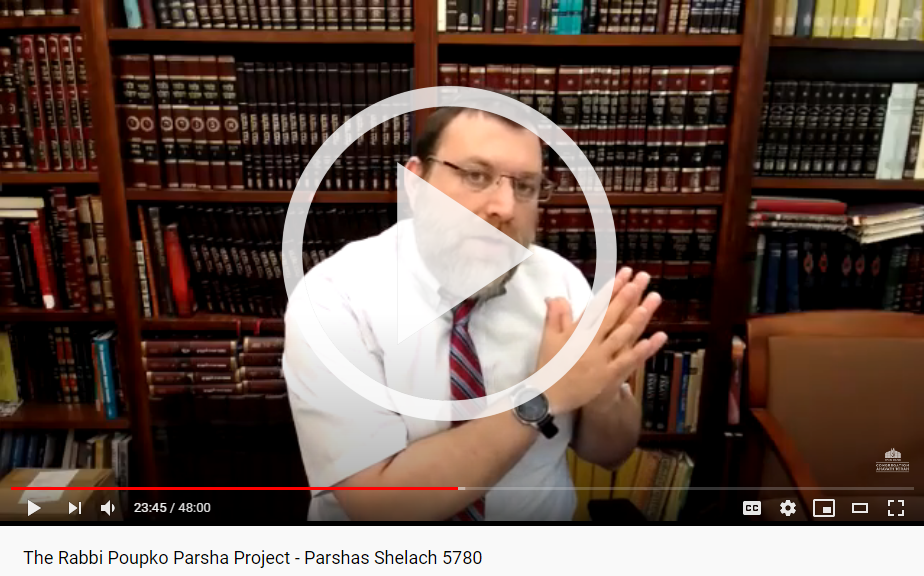 5. For This, Hashem Made the Internet
Many students of the Rav, Rav Yosef Dov Soloveithcik z"l, reflect not just on what they learned in his shiur but on the very experience of learning from him. My generation was largely robbed of that special opportunity. But thanks to the Internet, there are a number of recordings available to hear the Rav in his own voice. Recently, Ohr Publishing has posted a number of audio recordings on YouTube that offer a remarkable opportunity to learn from the Rav "more directly". There are a number of other audio and video files of the Rav scattered across the internet, among them are YUTorah.org as well as this website.
6. Subscribe to My YouTube Channel
I need your help please. I'm hoping to make more use of YouTube in sharing my Torah. To unlock certain functions, I need to have at least 100 subscribers. Please take a moment to subscribe. Thank you.

Mon, October 18 2021 12 Cheshvan 5782