The Rabbi's Desk
06/12/2020 11:42:28 AM

Please find below:
Weekly Message

Recorded Derasha

Watch this Week's Parsha Class

Download the Torah Reading for This Shabbat

COVID-19 Support Groups

Subscribe to My Youtube Channel
1. Weekly Message
Settling the Ball
My better half, Shoshana, brought to my attention recently a deeply insightful podcast by one of our favorite experts in social work and mental health, Brené Brown. In this podcast, she describes how the crisis in which we find ourselves must be treated like a marathon and not a sprint. Some of the challenges we are facing socially (and spiritually) will be with us for some time and we need to develop a sense of resilience to cope with the big and small challenges we face every day.
Brené describes how we get a surge of adrenaline when we are confronted with a crisis, which helps us respond to the immediate danger. But that adrenaline surge is never long enough for the whole crisis. After it dissipates, we need to marshal new mental and emotional resources to endure through the entire marathon. This requires a new mindset, one that she describes with an amazing mashal (metaphor).
In the game of soccer, there is a skill that must be acquired called "settling the ball." When the ball is kicked to a player, if the receiving player responds immediately by simply raising their leg in order to swat it with their foot - most often the ball will careen in some random, unproductive direction. Soccer players are taught, instead, to receive the ball and settle it for a moment to give them an opportunity to gain control over the ball, to read the field, and address it more strategically. The ball will then go exactly where the player wants it to go.
This is what is required after the adrenaline response to a crisis wears off. We need to settle the ball, we need to think and plan carefully our next steps as we try to reincorporate some of the old normal into the new reality. This has to be done slowly and deliberately, with great skill and caution. This lesson applies to our mental and emotional well-being, as well as how we navigate the road ahead as a community. Impulsive responses to new developments could create a dangerous situation. We must learn to sell the ball.
I'm reminded of a pasuk from Tehillim that I like to quote often, one that we are familiar with from the Tefilah. It says in Mizmor 27:
מִי־יַעֲלֶה בְהַר־יְהוָה וּמִי־יָקוּם בִּמְקוֹם קָדְשׁוֹ
Who may ascend the mountain of the LORD? Who may stand in His holy place?
The two parts of this pasuk can be seen as reflecting two stages in overcoming a challenge. First, merely ascending the mountain is an accomplishment in and of itself. But to stay on that mountain, is an entirely new challenge. To continue to stand on the mountain, to accomplish something and then to retain that victory, to maintain its rewards – that is the second stage of the effort.
With God's help, as well as with prudence and wise judgment, we have ascended the mountain by flattening the curve. Now that this curve is flat, we need to stay on top of it. We know how to do this when it comes to social distancing and the guidance to which we need to adhere. Ironically, though, when it comes to our own personal selves - our mental and emotional health - it's not as clear how to stay on top of the mountain even if we feel that we have ascended. I strongly encourage you to listen to this podcast and listen for Brené's advice. Her wisdom will certainly help us to settle the ball in our personal and family lives.
Shabbat Shalom
2. Recorded Derasha
Messy in the Middle, Gorgeous at the End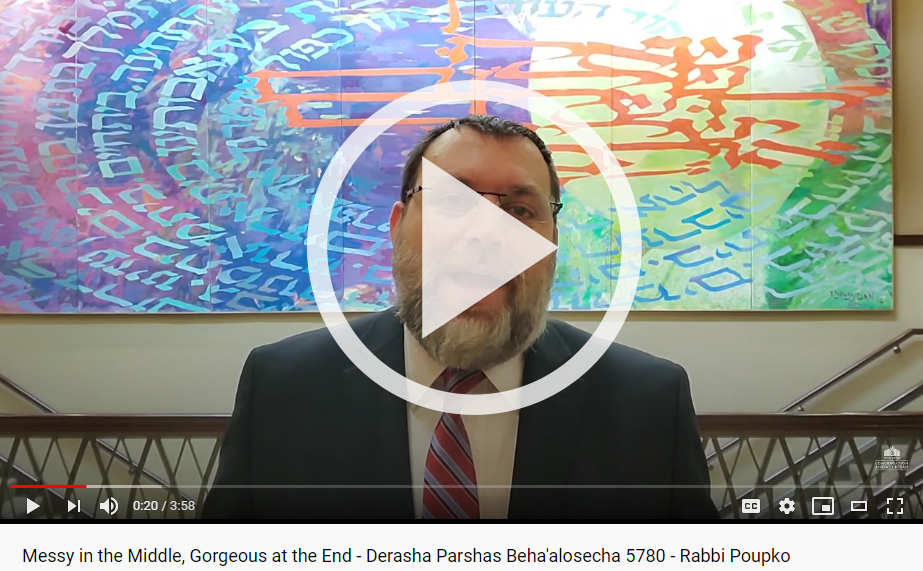 5. COVID-19 Support Groups
Individuals who have lost a Spouse/Partner to Covid19: Thursdays at 11am, six sessions beginning June 25th

Individuals who have lost a Spouse/Partner to Covid19: Tuesdays at 7pm, six sessions beginning June 23rd

Adults who have lost a parent to Covid19: Beginning the week of July 6th. Day and time TBA.

Adults (20'sand 30's) who have lost a parent to Covid19: Tuesdays at 7pm, six sessions beginning June 23rd

Healthcare Workers and First Responders - please see below.
All groups are facilitated by a licensed clinician. Registration is required at: groups@jfcsnnj.org or 201-837-9090. There is NO FEE to participate.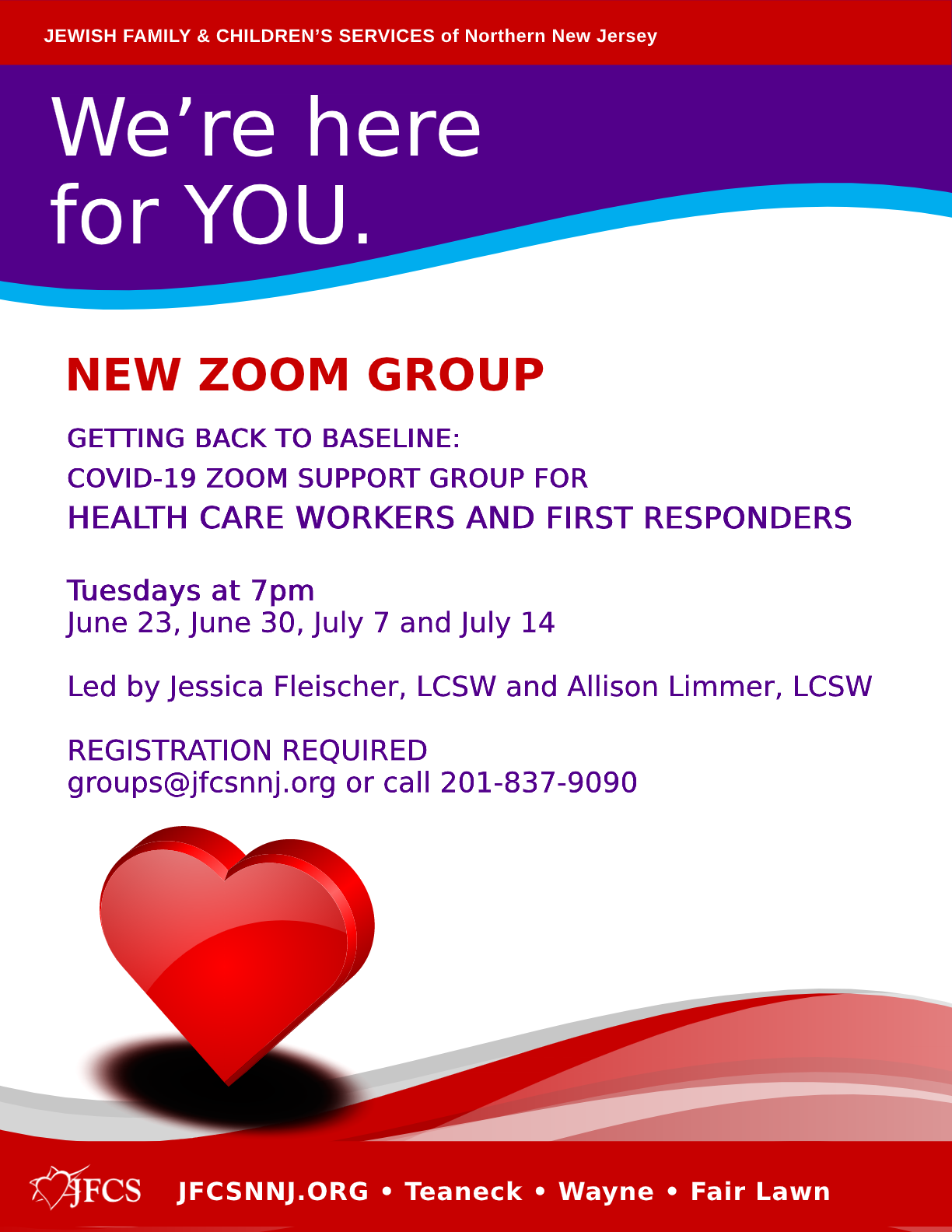 6. Subscribe to My YouTube Channel
I need your help please. I'm hoping to make more use of YouTube in sharing my Torah. To unlock certain functions, I need to have at least 100 subscribers. Please take a moment to subscribe. Thank you.

Mon, October 18 2021 12 Cheshvan 5782