The Rabbi's Desk
06/05/2020 12:34:37 PM

Please find below:
Weekly Message

Recorded Derasha

Watch this Week's Parsha Class

Rabbi Dr. Norman Lamm z"l

Erev Shabbos Spotify Playlist
1. Weekly Message
This week proved that "ain't nothing like the real thing baby". Being there in person is totally different than watching remotely. Sports fans know this. Movie buffs know this. Theater and concertgoers know this. And this recognition highlights two occurrences that I would like to reflect upon.
This past week we resumed Minyanim, under social-distancing restrictions. This enabled mourners to finally recite Kaddish with a minyan and for us to come together in Tefilah in a way we have been yearning for. Though social interactions are curtailed before and after the Minyan, the mundane banter between the Minyan goers over the practical issues and coordination of the Minyan made such a powerful impression on me. All those points of personal contact have immeasurable value and nurture the bonds that we have with each other. It didn't matter what we were saying to each other, just being each other's company from 6 feet away and collaborating on davening to Hashem gave us a taste of the "real thing" that we could not achieve over Zoom.
A word of caution, of course. Our relative success in flattening the curve should not lead us to believe that we are out of the woods. What we have accomplished so far should not lull us into a false sense of security. The danger is still very real. The process of relaxing of restrictions must continue to be slow and deliberate. Other communities have experienced new COVID-19 cases upon relaxing restrictions and our strict guidelines are meant to prevent that from happening in our community. I share the deep frustration over what we still cannot do yet. But if we continue with our current approach, we will get there with God's help.
This Shabbat there will be a rally to protest against injustice against people of color. If it weren't taking place on Shabbat, I would be there. Because, again, there is no replacement for being there in person. Nevertheless, the Orthodox Rabbis in Englewood have sent a message to be read at this rally to do our best to show our solidarity with our neighbors, despite our absence.
The conclusion of our Torah reading this week, Parshas Naso, is long and repetitive. The Torah enumerates the gifts brought by each of the princes of the twelve tribes upon the dedication of the altar in the Mishkan. Though each tribe's gift was comprised of the identical set of items, the Torah lists the components of each gift in detail. Many commentaries struggle to understand why the Torah saw fit to list the same series of gifts twelve times over. No matter what the actual reason, one of the effects of the repetition is that each prince and each tribe were afforded its own individual representation in the celebratory event. Had the Torah given us just one summary listing of the twelve sets of gifts, less attention would be paid towards each. But by spelling them out, honor and dignity are accorded to each tribe.
Being present at important events or in each other's lives, and being mindful and attentive to them, is both away to bond as well as a way to accord honor and dignity. This lesson is being reinforced by our inability to live by it, by our inability to show up in person at many important events, by our adherence to social distancing. But if we internalize this lesson under these circumstances, we will merit to live it out when we are ready for the "real thing."
2. Recorded Derasha - Facial Complexity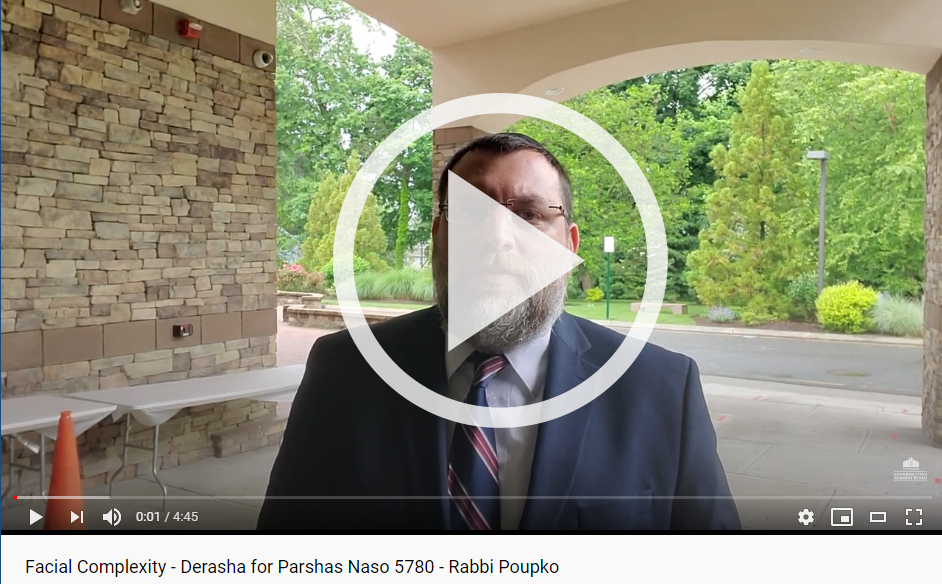 4. Rabbi Dr. Norman Lamm z"l
וַיֵּצֵא יַעֲקֹב מִבְּאֵר שָׁבַע וַיֵּלֶךְ חָרָנָה - Yaakov departed Be'er Sheva and went to Charan.
Rashi notes that the Torah could have simply written "and Yaakov went to Haran". Why then does it mention also his departure from Be'er Sheba? Rather the Torah intends to tell us that the departure of a righteous person from his city makes an impression. As long as a righteous man is in his city he is its glory and splendor and beauty; when he leaves it, there depart also its glory, its splendor and its beauty. 
The departure, the passing, of Rabbi Lamm from our community leaves a strong impression. It's an impression built on a lifetime of scholarship and service. It's an indelible impression that can only be left by someone who articulated the principles and values of an entire movement within the spectrum of the Jewish people. 
But when a great leader passes away, it's important to be mindful that this is a deeply personal and painful loss for his family. We extend our condolences to Rabbi Lamm's daughter, our friend and member Chaye Lamm Warburg, his grandchildren in our community Ahuva Halpern and Ariela Harcsztark, together with his entire extended family known to so many of us. Rabbi Lamm's passing comes so soon after the passing of his wife, their mother and grandmother, Mrs. Mindella Lamm. May Hashem provide comfort and strength to the family during this unusually difficult time.
Below please find a brief reflection I shared on Facebook this week followed by a small sample of the tributes by family, students, and friends.
Shoshana and I were so saddened to get the call this morning that Rabbi Dr. Norman Lamm had passed away. He was a towering figure who excelled as a scholar, a Rabbi, a teacher, a darshan and orator, a spokesman for a movement, a communal and institutional leader, and a visionary. Rabbi Lamm will always be a role model for me and my colleagues in the Modern Orthodox Rabbinate. He knew my grandfather, Rabbi Baruch A. Poupko z"l, as a contemporary and their generation of the Rabbinate built the communities my generation of Rabbis are blessed to serve. Rabbi Lamm set a high bar to which so many of us Rabbis aspire. I learned so much reading from his Derashot and other writings. I had the honor and pleasure of welcoming him many times here in Congregation Ahavath Torah. Whenever I spoke in his presence, he was enormously kind and generous in his 'יישר כח' and his feedback while conveying a grandfatherly warmth. I am immensely proud to have his signature on my Semichah. The strongest memories that will stay with me, though, are those from watching his children, grandchildren, and grandsons-in-law here in our community dote on him and accord him such affectionate respect befitting a beloved grandfather of great stature.
YU President Ari Berman's Tribute to Rabbi Dr. Norman Lamm
YU Memorial Tribute Video Recording (Eulogies from family, colleagues, and students)
Personal Reflections from Rabbi Dr. Jacob J. Schacter
The Tradition Journal Archive of Rabbi Lamm's articles in their publication
5. Erev Shabbos Spotify Playlist
Mon, October 18 2021 12 Cheshvan 5782